Southwest Florida Water Management District
Serenova Preserve Restoration Project
This project involved the restoration of the Cone Construction Borrow Pits on SWFWMD's Serenova Preserve. A site-specific safety plan was developed for this project and the scope of work included debris handling and debris recycling/removal, excavation, on-site and off disposal, spoil overburden grading and leveling, pond site slope grading, soil and road stabilization, plant material procurement, upland and wetlands planting, and the installation of two water-filled borrow areas, referred to as North and South Pits.
City of Gainesville
Beville Creek Restoration and Slope Stabilization at Cofrin Nature Park
The goal of this project was to restore natural flow and function to Beville Creek in Cofrin Nature Park. ETS developed a site-specific safety plan for the project and construction occurred without disrupting the operation of the Park. The scope of work included grading and stabilizing undercut and unstable creek banks, removal of CMP pipe and associated structures that were interfering with the natural function of the creek, removal of objectionable materials from the banks and creek bed, installation of a prefabricated pedestrian bridge, restore creek bed elevations, and the final installation of grasses, tree, and other native vegetation to stabilize creek banks.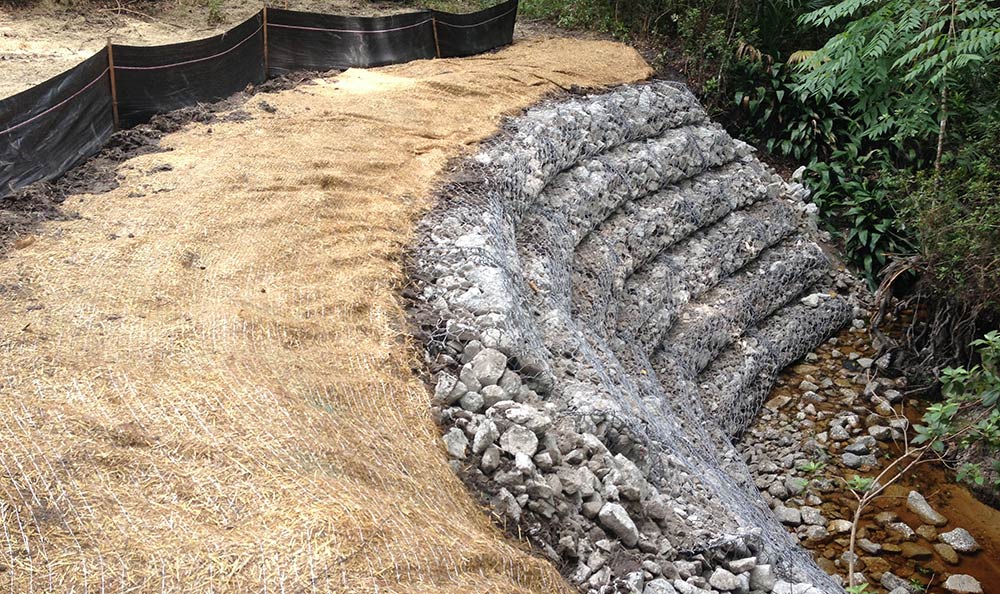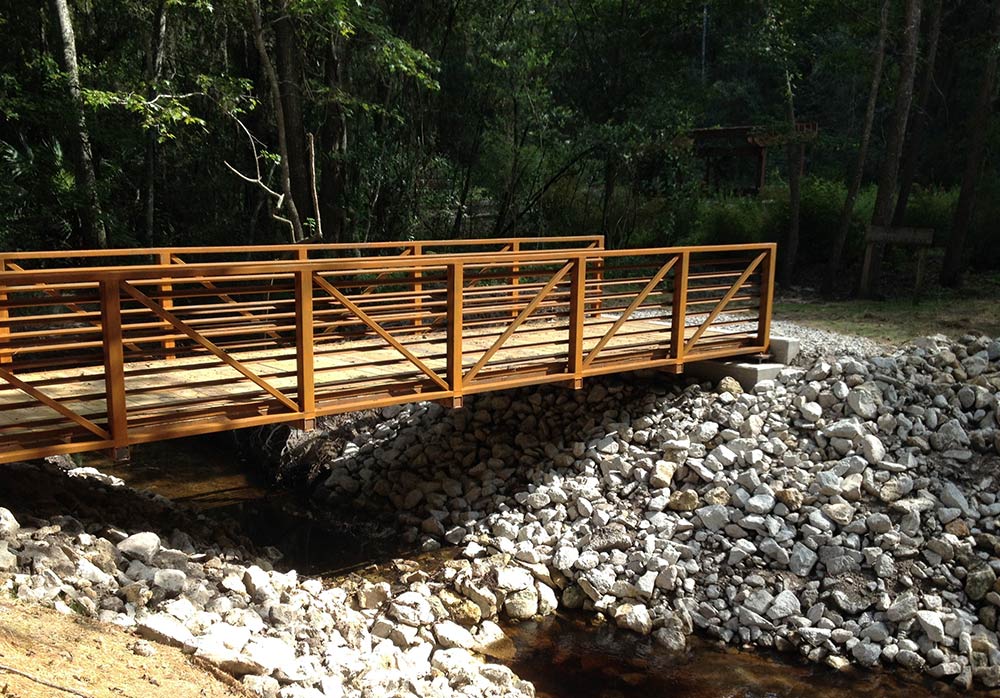 Manatee County
Duette Preserve Watershed Improvement Project
The goal of this project was to improve the hydrologic functions of weltands within the East Fork Manatee River basin on the Duette Preserve Park property owned my Manatee County. Improving the hydrologic function of wetlands helps improve the environment and foster the development of habitats for native flora and fauna. The scope of work completed by ETS consisted of filling approximately 16,500 linear feet of ditches (including 10 ditch blocks), excavation and grading of 450 feet of swales, and the placement of 270 linear feet of 18" HDPE storm pipe at two locations and 262 linear feet of 12" HDPE storm pipe at one location.
Okeechobee County
US HWY 98 Ditch Culvert Replacements and Dry Retention Area
As part of the Disaster Recovery Community Development Block Grant Program, the goal of this project was to provide better drainage for residential areas upstream. The work consisted of clearing and grubbing, structure removal, excavation, earthfill, paving, reinstalling railroad spur line, installing rip rap, and seeding and mulching. Specifically, construction included: one 5 feet high x 10 feet wide x 40 feet long concrete box culvert with concrete headwalls, two 4 feet high x 14 feet wide x 60 feet long concrete box culverts with concrete headwalls, one twin 4 feet high x 8 feet wide x 64 feet long concrete box culverts with concrete headwalls, one 9.5 feet high x 13.5 feet wide x 24 feet long corrugated arched metal pipe, and a ¼ acre dry retention area.
Waste Management, Inc.
2013 Wetland Mitigation Construction
ETS created a wetland approximately 300 acres in size. This process involved dewatering, wet excavation, removing water control structures, installing low water crossing, erosion control, and installing monitoring wells to monitor level of wetland once constructed.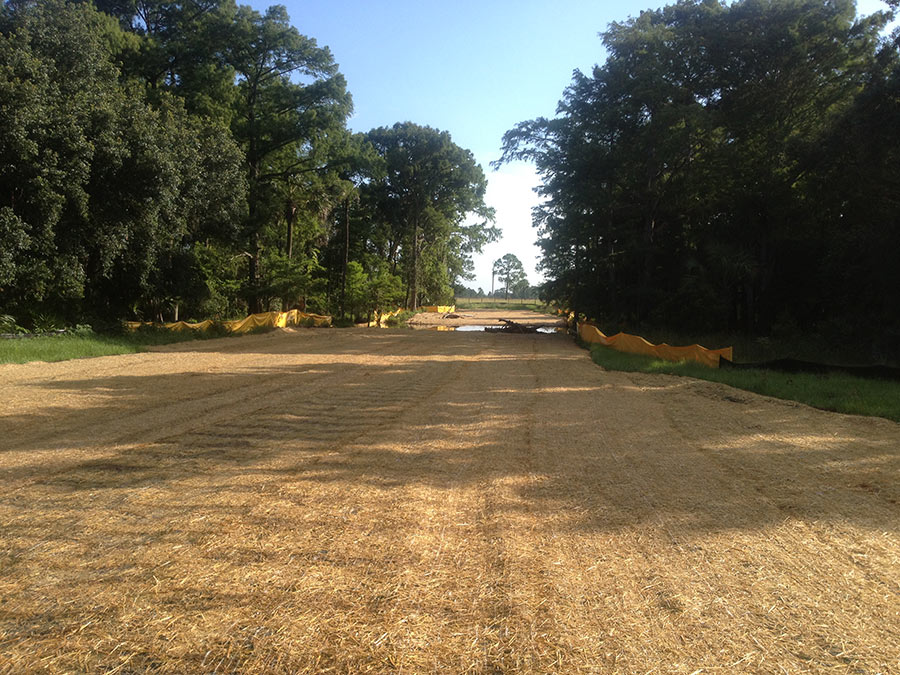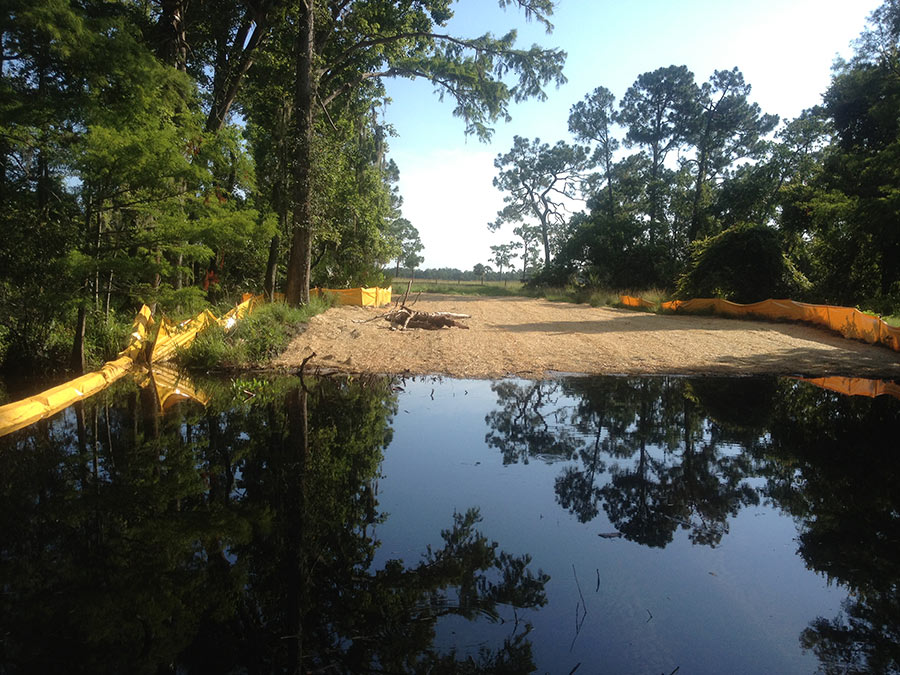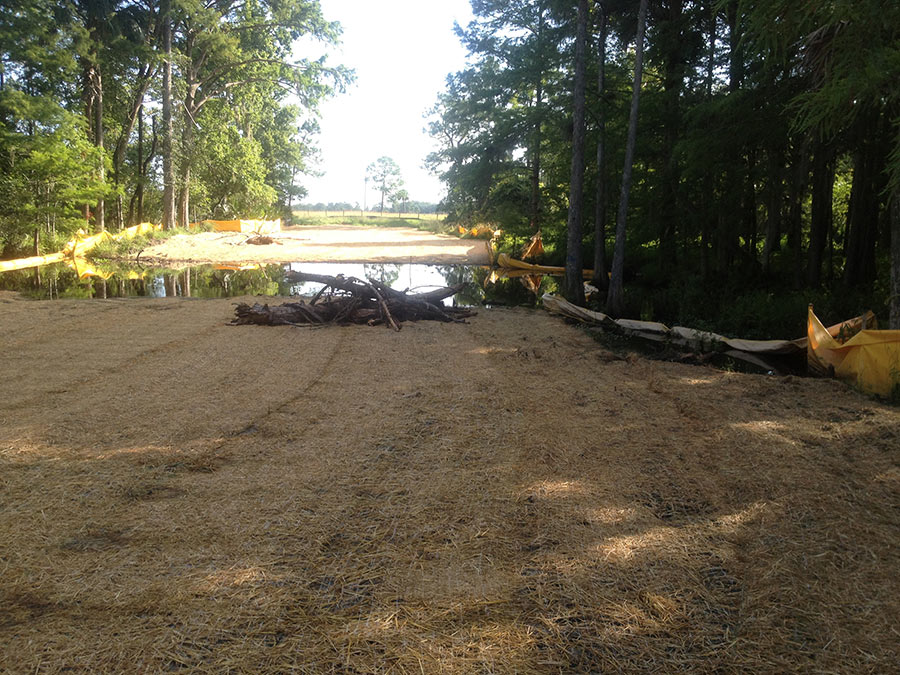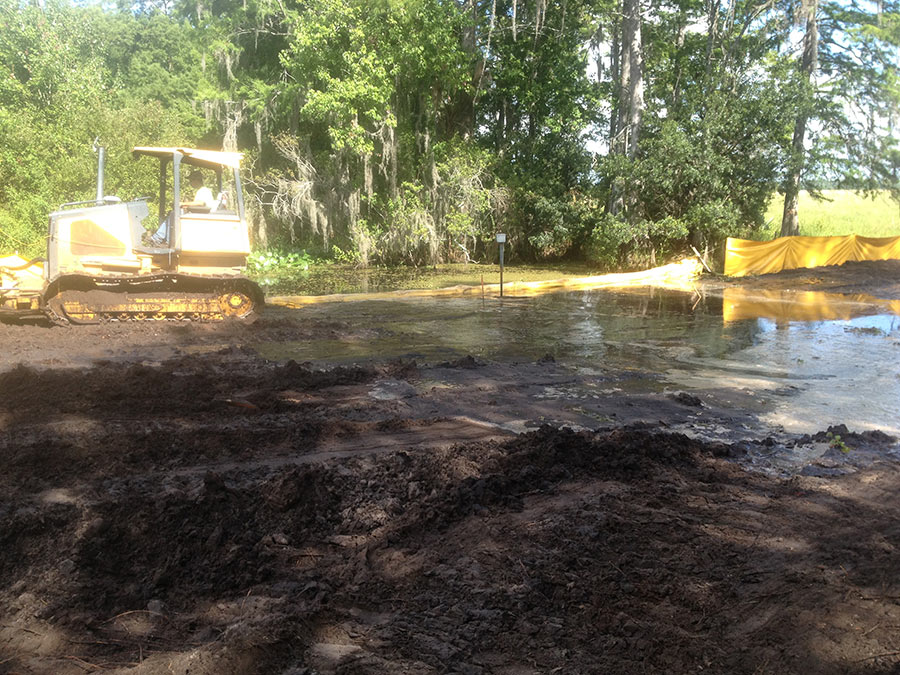 USDA/NRCS
Mary's Creek Wetlands Reserve Program
The WRP is a voluntary program offering landowners the opportunity to protect, restore, and enhance wetlands on their property. The USDA/NRCS provides technical and financial support to help landowners with their wetland restoration efforts. The NRCS goal is to achieve the greatest wetland functions and values, along with optimum wildlife habitat, on every acre enrolled in the program. This particular WRP involved a 600-acre area that had been previously drained for farming and cattle ranching. The goal of this WRP project was to better control the amount of drainage in the project area, which promotes a more natural hydroperiod and helps to restore onsite wetlands. The work consisted of clearing and grubbing, structure removal, excavation, earthfill, re-constructing a meandering portion of a creek, installing geocell for low water crossings, installation a ConTech bridge, installing rip rap, and seeding and mulching.